2018 NFL Draft: SMU WR Courtland Sutton Scouting Report
Will the upside and freakish size be enough for Southern Methodist wide receiver Courtland Sutton to get taken in Round 1 of the 2018 NFL Draft?
Originally a tight end and safety in high school, the 6'3″ 218 lb. the converted wide receiver Courtland Sutton has more than enough size to make it in the NFL as a true number 1 receiver for an NFL team and can move well enough for his size. Courtland Sutton also played basketball his freshman year and won awards that did not include football like the Spirit Award and showed his leadership by representing SMU at the Student-Athlete Leadership Forum in Indianapolis. Sutton had his season cut short from a season-ending injury his freshman year so he was medically red-shirted in 2014. From 2015 and on, Sutton was featured in the SMU offense. Hence, he had back to back seasons with over 1,000 yards and over 10 touchdowns (2016-2017).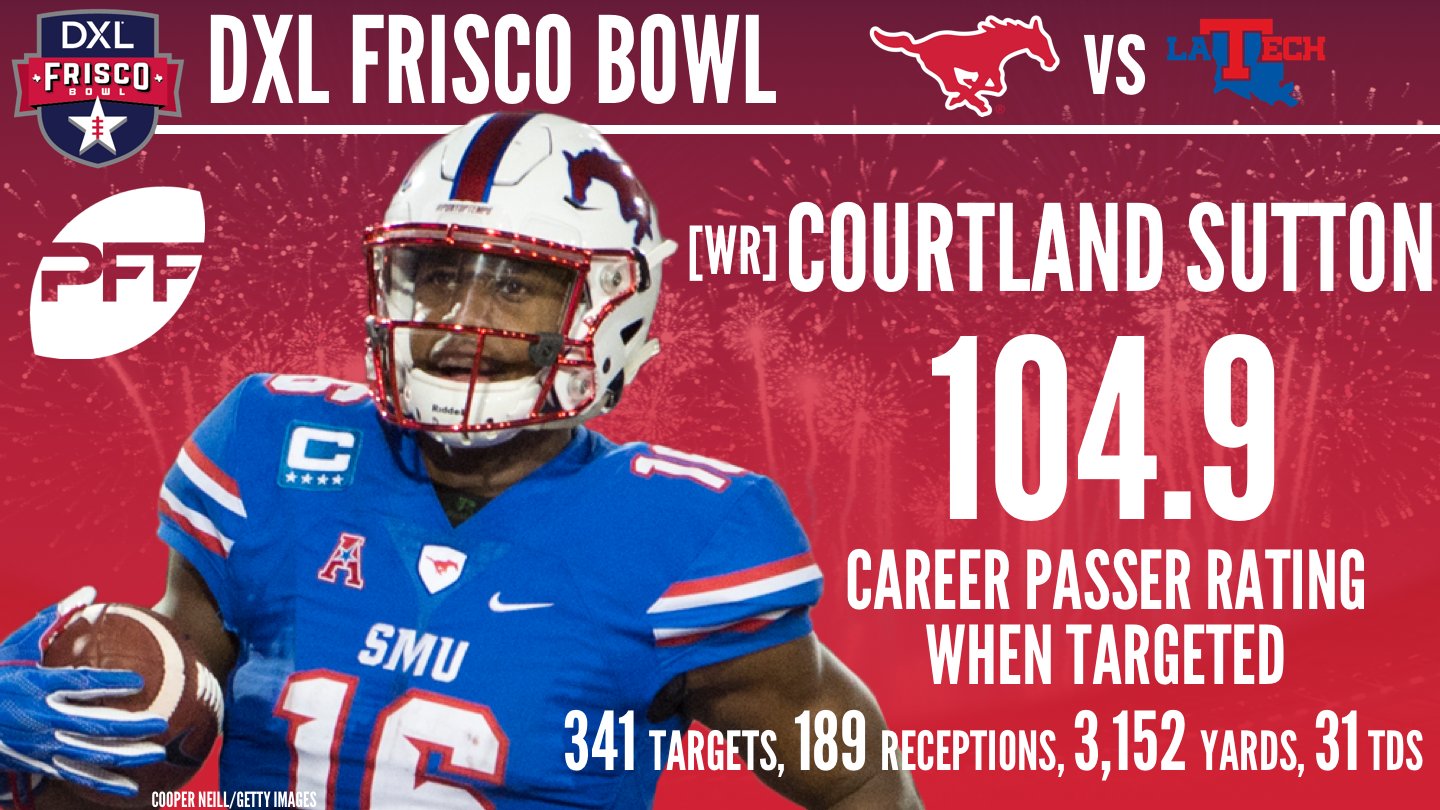 According to Pro Football Focus, SMU quarterbacks throwing to Courtland Sutton had a 104.9 career passer rating when targeted. Sutton had a total of 195 career receptions (6th in SMU history), 3,220 receiving yards (3rd in SMU history), 31 receiving touchdowns (2nd in SMU history), and 16.5 yards per reception in 40 total games. He broke the freshman receiving yards record in 2015 (862 yards), named USA Today Sports Freshman All-America team (2015), sophomore receiving yards record in 2016 (1,246 yards), First-Team All-American Athletic Conference (2016), and All-AAC first team (2017). In his limited time with SMU, Sutton was very productive after his red-shirt sophomore year. I believe he has the traits to be a dominant receiver in the NFL.
Strengths
[AndrewKimAds]
If Courtland Sutton is given enough space to accelerate, he shows some surprising burst for a receiver that big.
In 2015 against Baylor (specifically cornerback Xavien Howard), Sutton takes advantage of the off coverage and outruns Howard on a streak. He has good burst if he is not pressed on the line of scrimmage. As a big receiver who has some good acceleration, it surprising Sutton does not win like this more often as the featured receiver at SMU as he can catch contested passes usually.
Courtland Sutton gives you something different from most of the top receivers in this draft class do not have: size.
In 2016 against Houston, Sutton wins by just using his big frame. With his large catch radius, he boxes out the cornerback to score the touchdown at the back of the end zone. Shockingly enough, Sutton does not win enough fade routes in the end zone that someone would think with his stature. This is one of the many moments where he gets the right amount of separation to highpoint the ball. Even though he has the ability to make great adjustments to the ball down the field and can make catches only he can reach due to his height.
Sutton has some yards after catch ability if he can make the 1st defender miss the tackle, especially near the middle of the field as he can catch the ball in stride without losing most of his speed.
In 2017 against North Texas, Sutton runs a slant route. He breaks the 1st tackle and takes it to the house. Sutton can be just a red zone threat based on his size.  Also, he can be just as productive on quick and short routes where he is not jammed on the line of scrimmage.
SMU played Sutton on the outside and in the slot so he does have some mismatch capability as a bigger receiver.
They tried to use him as much as possible and used him a lot on curls/comebacks, screens, or go routes/fades. In the slot, he got more space so he had just as much success there as the outside as he did get double teams mostly on the outside. Sutton is a very aggressive run blocker as he can use his size to push defenders back and block. And other than his red-shirt season, Sutton has not missed a game in the 3 seasons following 2014.
Weaknesses
[AndrewKimAds]
Courtland Sutton does have trouble with more physical cornerbacks and can be more physical attacking the football at times.
In 2015 against Houston, Sutton is going against William Jackson in man coverage and anticipates the curl or comeback route and jumps the route. A 6'4″ wide receiver should play tougher than this instead of turning and waiting for the pass to get to you. Sutton does attack and highpoint the ball at times but it just does not in some cases like this one. He has a frame that can box out defenders from letting you catch the ball but plays conservative during this play.
Courtland Sutton has to improve his catching technique. He tends to clap the ball leading to the drops he has.
In 2016 against TCU, Sutton could easily reach this relatively high pass. Nonetheless, he drops it because of his clapping technique, not concentration. He has plenty of incidents where he drops easy passes or needs to cradle the football after double catching the ball and has to secure it on his chest instead of his hands. Sutton can make a great contested catch one play and the next play drop a screen pass.
When Sutton is going out for a fade or go route into the red zone, he falls down and tries to dive for the ball even though he is relatively short from the ball when he could not have lost any speed or balance and jump for the ball instead of falling on the turf.
In 2017 against Memphis, Sutton runs a fade into the end zone. He struggles with tight press coverage and does not seem to have a step on the cornerback. So he tries to dive for the ball. Sutton could've have waited till the ball got there, jumped up, and attacked the football. Instead, he was leaning the whole way and tried to dive for it. While it may have been slightly overthrown, it shows in his film that he gets chances to score and does not because he loses his balance trying to separate himself from the defender. He has a big enough catch radius to get a better chance to catch that pass for a touchdown instead of what Sutton did.
On a few plays, I do see on and off effort. He does not sell the route at times. Which, in turn, makes the route predictable to read and cover.
Sometimes he is too physical with cornerbacks and draws offensive pass interference. More so when he is trying to create separation in a small area of the field, like the end zone or the sideline. He is also not the best route runner. He usually runs at one pace when he goes out for a route. His arsenal is also limited.  Thus, he only tries to shake off the defender after he has the ball in his hands mostly, not when the play starts. The footwork has to improve as well. Sutton's injury that forced him to red-shirt was also never specifically named on any platform. So that is something to look out for during the medicals at the NFL scouting combine.
Round Projection – Late Round 1 – Early Round 2
Since Sutton declined the Senior Bowl invite. Thus, the 2018 NFL scouting combine will dictate his draft stock. He shows pretty frequently that he has questions on creating separation. Especially against physical corners in man or press coverage. I could see a team late in the 1st round take a chance on him. Due to his tremendous upside. Sutton would be a good complementary possession receiver who can play inside or outside. He could eventually mold into a true number 1 receiver. If Sutton was more consistent with his hands and route running, I would be sold on him as a definite 1st rounder. However, as of now, it is more upside and physical attributes than anything else.
NFL Comparison: Kenny Golladay- Detroit Lions
[AndrewKimTwitter]